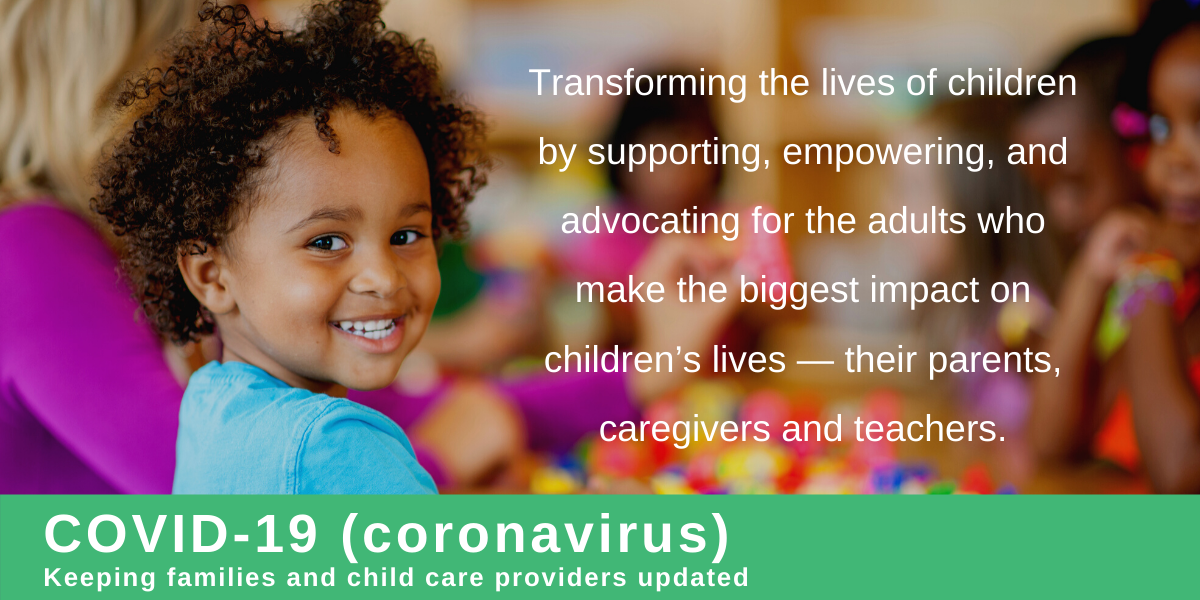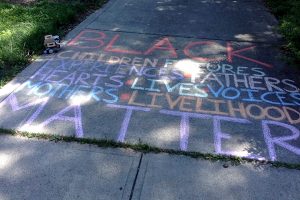 Action for Children supports Anti-Racism Efforts
Action for Children stands against racism (read the message from CEO Eric Karolak). We join with others in calling for an end to racism and we ask you to join us. Vote for the changes you seek. Support the communities that are most impacted. And most of all, talk about race with your neighbors, your family, and especially your children. Visit our Anti-Racism Resources and Reading page to help you and your family begin to understand and discuss these issues.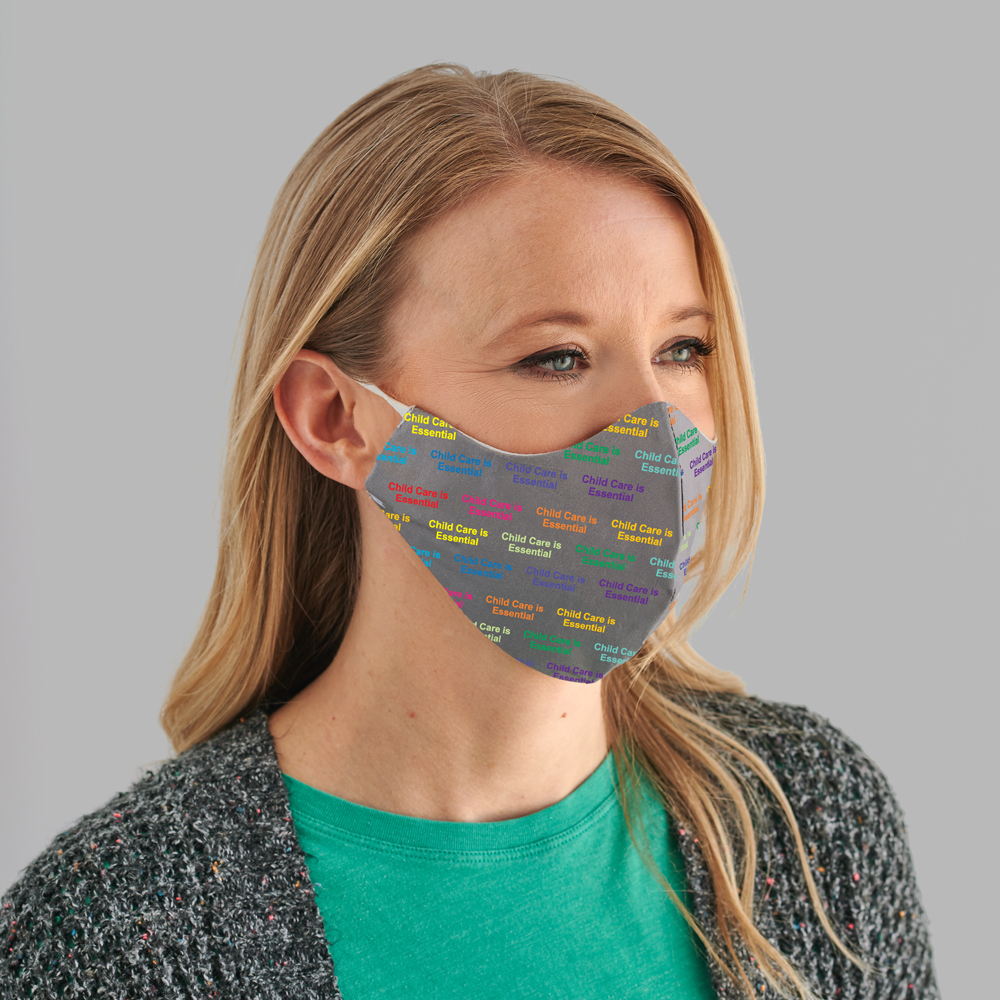 #ChildCareIsEssential
Child care providers are our everyday heroes — caring for and nurturing our children and making it possible for parents to go to work, and the economy to recover. But due to the COVID-19 crisis, many providers were forced to close and many are struggling to reopen or maintain their businesses.
Action for Children is fighting for increased funding for child care so we can ensure a full economic recovery. By donating to AFC today, you are ensuring a brighter future for children tomorrow. Donate $20 or more and you will receive a cloth mask face covering to protect your community from furthering the spread of COVID-19. You may specify the design and size (child or adult) on the form.

Finding Child Care
Looking for child care? Action for children can help your family find care that meets your needs:
1. Schedule a time to speak with a Family Engagement Specialist by calling 614-224-0222
2. Submit your child care request online
3. Conduct your own search 24/7 on our interactive map
Free Online Parenting Support During COVID-19
Sign up for brief, one-on-one parenting support by phone on a wide variety of topics for parents and caregivers of young children. This service is currently available in Madison, Marion, Pickaway, and Union counties. To sign up, email TripleP@actionforchildren.org or call 614-382-2445. For more information, click here.
Family Resources
School Re-Opening Plans – list of re-opening plans for every school district in Central Ohio
Read our update for more information on the reopening of child care
What Parents Should Know About Sending Children Back to Child Care
Additional Specific Details on Opening Child Care
Detailed Summary of Youth Day Camp Restart
For more information for families, please visit the Ohio Department of Job and Family Services' page for families
Activities and Tips
How to talk to children about COVID-19
Pandemic Stress Management Practices for Parents
Social Distancing for Kids
Help stop the spread of the Coronavirus COVID-19

Central Ohio Critical Child Care Network
Action for Children welcomes all providers into the Critical Child Care Network, where we have been collaborating and sharing resources to ease the challenges brought on by COVID-19.
Provider Resources
Guidance on Reopening Your Child Care Program
Returning to Child Care Post COVID-19 – The Columbus Foundation, Can't Stop Columbus, Lextant, and the YMCA
Pandemic Support Payments for Centers – ODJFS
Pandemic Support Payments for FCC – ODJFS
Transitional Pandemic Child Care Toolkit – ODJFS
Responsible RestartOhio "Child Care Rules and Best Practices" – ODJFS
Center-based Rules & Regulations during COVID-19: Q&A with ODJFS (June 23) – Action for Children
Center-based Rules & Regulations during COVID-19: Putting It Into Practice (June 25) – Action for Children
Using Dividers to Create Separate Spaces in Child Care Centers – ODJFS
Professional Development ONLINE Training Schedule for August
For more information on TPCCs, go to the Ohio Department of Job and Family Services page for providers.
Thank You
Action for Children and our entire community give thanks to all providers who operated under them Temporary Pandemic Child Care license between March 26 and May 30. View the full list here.

Community Resources
Action for Children's COVID-19 Response Timeline
Community Message – June 4
Action for Children supports Anti-Racism Efforts
A message from CEO Eric Karolak
Resources and Reading Materials
Juneteenth Community Message
Support
Columbus Cares Kid Kits
AFC in the News
Columbus Dispatch: Central Ohio child care centers waiting on subsidy figure before considering return to full capacity (July 31, 2020)
Columbus Dispatch: Amid pandemic, parents cautious over child care (July 19, 2020)
Columbus Dispatch: How will Ohio schools hold fall classes as coronavirus cases rise? (July 12, 2020)
NBC4: Parents Night In Benefiting Action for Children June 25 at 7 pm (June 25, 2020)
Columbus Dispatch: Ohio's child care centers weigh reopening under state guidelines (May 24, 2020)
Columbus Dispatch: Parents and caregivers wrestle with decisions about child care openings (May 15, 2020)
10TV: Kits aim to bring resources to families in need in Columbus (April 6, 2020)
NBC4: Daycares remain open with temporary pandemic license (March 26, 2020)
Columbus Dispatch: Ohio's coronavirus child-care centers are set to open. How many kids will show up? (March 26, 2020)
10TV: Ohio day cares prepare for eventual closure; parents should, too (March 16, 2020)
Columbus Dispatch: Ohio schools prepare for 3-week coronavirus shutdown starting Monday (March 13, 2020)