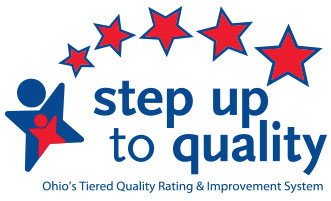 Step Up To Quality is Ohio's quality rating system for child care programs that sets standards for early care and education above and beyond state licensing requirements. By earning a rating, a child care program demonstrates its commitment to going beyond minimum health and safety guidelines. At Action for Children, we are now actively working with every provider in Central Ohio who accepts public funding for the children in their care to earn at least a 3-Star Step Up To Quality Rating. This goal will be met through:
One-on-one support
Professional development
Exclusive resources and community support
If you are a provider looking for assistance, please visit our SUTQ Journey page for more information on how to contact our Technical Assistance coaches and work your way up!
This work is funded by the Franklin County Department of Job and Family Services, the Ohio Department of Job and Family Services, The Columbus Foundation, the City of Columbus, and PNC Bank. We also partner with other organizations, including Future Ready Columbus, who strengthen our efforts.
Twitter feed is not available at the moment.