Action for Children is hosting its 4th annual Small Steps Big Benefits Celebrity Spelling Bee. It's our biggest event of the year — raising funds to support our mission and early learning in Central Ohio. Each spelling bee contestant competes to win money for a specific program in our community that is committed to helping children thrive.
CELEBRITY PARTICIPANTS CONFIRMED
Ann Fisher, WOSU • Adora Namigadde, WOSU •  Monica Day, NBC 4  •  Robyn Haines, NBC 4 •  Sue Zazon, Huntington
MORE CELEBRITY SPELLERS AND JUDGES TO BE ANNOUNCED!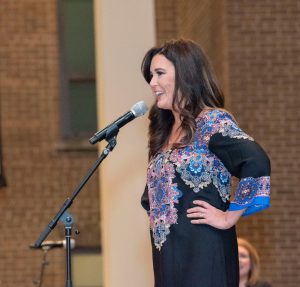 When you attend the Small Steps Big Benefits Spelling Bee, you are helping the more than 60,000 children in Central Ohio who rely on our services and programs. Action for Children is committed to helping the adults who matter most in their lives — their parents and care givers. We rely on supporters like you to help us do this work. Last year alone, we:
We conducted 1,000 in-home visits to prepare children for kindergarten
We provided 3,200 parents with hands-on training and support
We helped 3,700 families find child care that worked for their needs
We worked with 7,500 early childhood educators through professional development, technical assistance, and licensing
And we ensured that 588,500 meals and snacks were served through our food program
Tickets: $100 each
Includes valet parking, entry to the spelling bee, spirited beverages and heavy hors d'oeuvres.

All proceeds support the work of Action for Children,
which reaches more than 60,000 children in Central Ohio.

Thank You to Our Sponsors: