Action for Children is hosting its 4th annual Small Steps Big Benefits Celebrity Spelling Bee presented by The Huntington National Bank. It's our biggest event of the year — raising funds to support our mission and early learning in Central Ohio. Each spelling bee contestant competes to win money for a specific program in our community that is committed to helping children thrive.

September 17, 2020
The Columbus Athenaeum
32 N 4th St, Columbus, OH, 43215
When you attend the Small Steps Big Benefits Spelling Bee, you are helping the more than 60,000 children in Central Ohio who rely on our services and programs. Action for Children is committed to helping the adults who matter most in their lives — their parents and caregivers. We rely on supporters like you to help us do this work. Last year alone:
We conducted 1,000 in-home visits to prepare children for kindergarten
We provided 3,200 parents with hands-on training and support
We helped 3,700 families find child care that worked for their needs
We worked with 7,500 early childhood educators through professional development, technical assistance, and licensing
TICKETS COMING SOON
$100 ticket purchase includes entry to the Spelling Bee, open bar and heavy hors d'oeuvres.
PARKING
LAZ Parking operates a parking garage one half-block north of TCA on the same (east) side of the street next to the blue brick townhouses. You must turn right on Elm Alley to enter the garage, and the red Xs on 4th Street denote the exit (and do not mean the garage is closed). Credit card is accepted at the gate or cash is accepted at the 1st floor pay station. Parking meters are also available on the streets surrounding the Athenaeum. Be sure to carefully check the hours of operation posted on the meters. Meters on the main thoroughfares become tow-away zones from 4:00-6:00pm as do spaces immediately in front of TCA which is an official bus stop 24/7. Please read restrictions posted on signs carefully. Please be aware that the police are quick to tow vehicles that are illegally parked.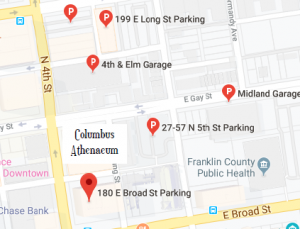 All proceeds support the work of Action for Children,
which reaches more than 60,000 children in Central Ohio.



Thank You to Our Sponsors: