Step Up to Quality
Action for Children provides FREE onsite Technical Assistance (TA) to centers and family child care providers working to obtain and maintain a Step Up to Quality (SUTQ) rating. SUTQ is Ohio's 5 star quality rating system that recognizes and promotes learning and development programs that meet quality program standards that exceed licensing health and safety regulations. To learn more about SUTQ please visit EarlyChildhoodOhio.org
Action for Children's Team Will:
Meet you where you are (both location and needs)
Help you to keep the families already in your care who are utilizing publicly funded child care assistance
Create a customized plan to meet your goals
Speak to ODJFS Licensing Specialists on your behalf
Did you know?
All licensed child care providers must have a star rating by July 1, 2020 in order to continue receiving payments for children whose families are utilizing publicly funded child care?
You could be paid more for the work you already do? Providers who accept publicly funded child care earn additional payment increases for each star rating that they earn!
If you are ready to Step Up to Quality or would like to learn more, please contact the Step Up to Quality Coordinator at 614.224.0222, ext. 157, or email Brittany Jackson.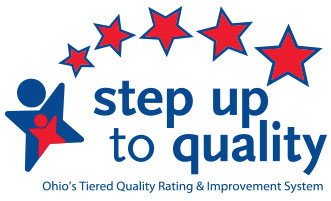 WHAT PEOPLE ARE SAYING ABOUT WORKING WITH ACTION FOR CHILDREN:
"The process is less overwhelming with their guidance"
– Angela Oplinger, Michell's Academy
"I couldn't have done it without my TA"
– Anonymous
"Having the support from AFC's TA staff is priceless. I would not have been as confident in applying for SUTQ nor equipped to go through the process without the support from my TA's!"
– Misty Norman, Heavenly Kids Child Care