for Community Service in Support of Early Childhood
This distinguished award was created to honor Diane and the memory of her beloved husband Dan (1944 – 2014), two individuals who believed ever so deeply in the work of Action for Children on behalf of the future of our community's children and families.
Diane began her work at Action for Children as executive director in 1983 and worked tirelessly and passionately until her retirement in 2013. Under Diane's tenure many highly successful programs and services were created to raise awareness about the importance of early learning for a child's growth and development. Through her work at the local, state and national levels, Diane helped to change the thinking about the professionalism of the child care worker, and helped to give voice to the needs of children and their families.
Professionally, Dan had an outstanding 40-year career as a real estate and development attorney with Vorys, Seymour, Sater and Pease until his retirement in 2010. He gave back to our community as a member of Columbus City Council from 1972–1979 and as an involved board member of many local nonprofit organizations. In 2011, he rode his bicycle across the United States in Dan's Big Bold Bicycle Adventure, a fundraising effort for Action for Children, where he served as a board member from 1984–1992.
Along with their shared commitment to the future of all children, Diane and Dan were deeply committed to their own family of five children and seven grandchildren.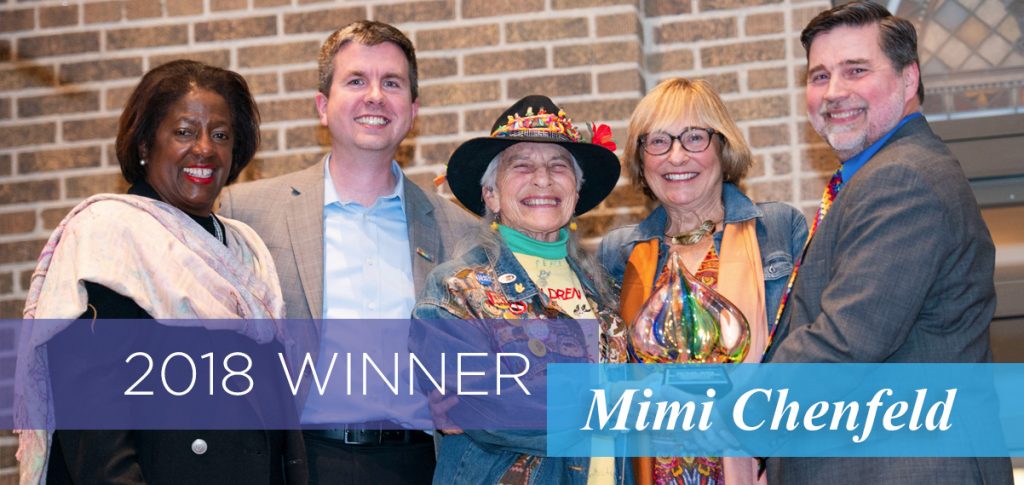 2018 Winner  |  Mimi Chenfeld  |  For nearly sixty years, Mimi Brodsky Chenfeld has inspired, taught, testified, supported, encouraged, and lived a life dedicated to improving the likelihood that all young children will experience early care and education that is developmentally appropriate, culturally responsive, accepting and supportive of success. Mimi's special love (after kids) is "creative education". This integrates the arts in every aspect of the curriculum with emphasis on movement and writing. Author of six books, her Still Teaching in the Key of Life: Joyful Stories from Early Childhood Settings, published in 2013, celebrated the 20th anniversary of her original, Teaching in the Key of Life.
Mimi has tirelessly traveled the country conducting arts education workshops and speaking on creative early childhood education. In fact, she is a longstanding artist on the roster of the Ohio Alliance for Arts Education's Artists-in-Schools program and teaches arts education at Otterbein University and Columbus State Community College, as well as to pre-schoolers at the Leo Yassenoff Jewish Center. Further, she was a leader of the Days of Creation Arts Program and OSU's Hillel Foundation International Folkdance program. She continues to be a powerful advocate for high-quality early care and education for children in Ohio, the nation, and beyond. In addition to all her other professional commitments, Mimi Chenfeld has presented eighty-seven Artists in Schools programs in forty-seven different schools in central Ohio over the past two decades.
Additionally, she is well respected in the academic setting, having authored or co-authored more than 30 scholarly works for journals including Early Childhood Education Journal, Young Children (NAEYC), and Reading & Writing Quarterly among others.
With a great and engulfing sense of humor, an unflagging idealism in support of the arts and arts education, a life lived in near-constant activity in support of her field, Mimi Chenfeld is beloved by early childhood educators, K-12 teachers, teaching artists, students and former students everywhere in Ohio and well beyond.  Mimi is always teaching – always encouraging the creative impulse that makes us human. She does this with tremendous joy and great love. The recipient of many honors, Mimi's favorite comes from a child who wrote, "Mimi, you are the Queen of Fun!"
---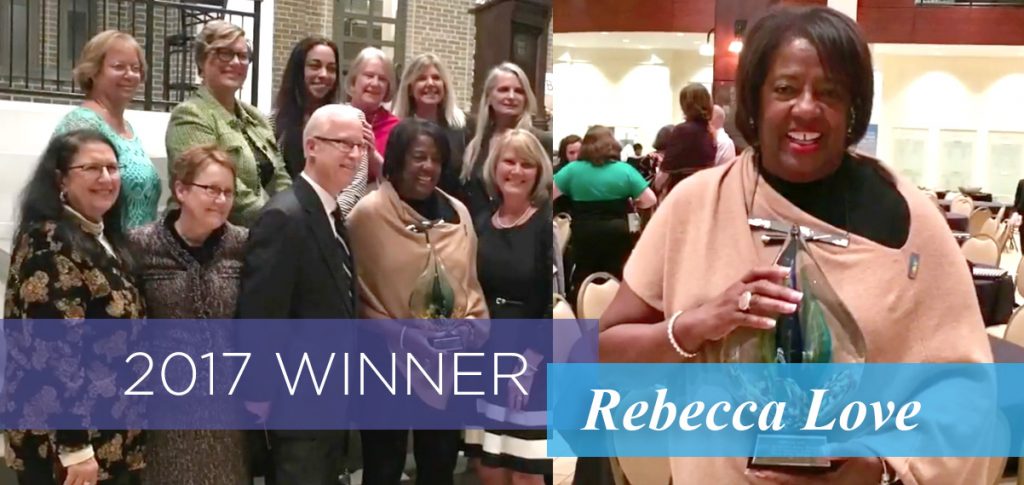 2017 Winner  |  Rebecca Love  |  As Director of Early Childhood Education at the Franklin County Board of Developmental Disabilities, Rebecca Love has had the good fortune and support of many to pursue a vision to create a Center providing seamless services to children birth through age five with and without disabilities.
For 45 years, she has been committed to enhancing the quality of life for children and their families by working collaboratively to provide services that are inclusive, affordable and accessible.
In 2001 a unique partnership of local, state, and federal organizations working together with a common mission to serve families and young children joined this initiative and the opening of a Center to serve over 700 children with diverse needs and abilities.
This initiative continues to receive local, state, national and international recognition as a state of the art example of quality services to children and families. Rebecca is involved with several community organizations as an advocate for children and their families.
In 2002, she was recognized and honored as a Women of Achievement recipient for her commitment to breaking down barriers and creating opportunities for Women in central Ohio.
Love has a bachelor's degree from Ohio University in Speech Pathology and a graduate degree in Speech Pathology and Child Development from the Ohio State University. She is a licensed Speech Pathologist Credential Early Childhood and Special Education Administrator employed in the field since 1972. She is also currently serving on the board of directors at Action for Children.
Bennett Schoedinger Award from Action for Children on Vimeo.
---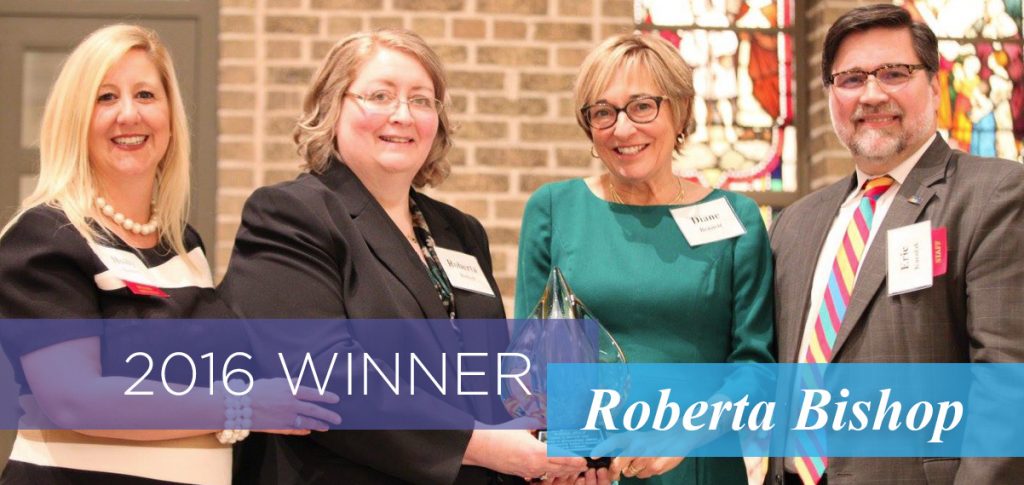 2016 Winner  |  Roberta Bishop  |  Roberta Bishop has 42 years experience in the field of Early Childhood Education and has been the Executive Director at the South Side Learning & Development Center since 1987.  She has served two terms as a Board Member for Action for Children and held numerous leadership positions in the community including a legislative appointment to the Head Start Plus Study Council (2004-2005). She served as President of the Ohio Association of Child Care Providers (2005-2007); Spokesperson for the Franklin County Coalition of Child Care Providers since 1990; Ohio School Readiness Solutions Group of the State Board of Education – Quality Early Learning Settings Work Group Member (2006); Franklin County Early Learning Consortium Steering Committee (2004-2009)  (Early Learning Initiative); UWCO Start Smart Advisory Board Member; one of the founding partners of the Blended Early Education Services – Child Care Providers in partnership with Head Start (1997-2004); and was a part of the Original Stakeholders Group for Step Up To Quality (1995-2005) – Ohio's Voluntary Quality Rating System.  In recognition of her leadership, Roberta received a "Change Artist Award" from Action for Children in 2004 and was one of the 2004 recipients of the Irene Bandy-Hedden Early Childhood Education Leadership Award from the Ohio Department of Education, Office of Early Learning and School Readiness. In 2012 she was one of Action for Children's Making Good On Our Promise Honorees. In May of 2016, Roberta was presented with Congressional Recognition for Outstanding Commitment to Lifelong Learning by Congresswoman Joyce Beatty.
Roberta's background is in Early Childhood Development (Columbus State) and Business Administration (Franklin University). She received her NAC (National Administrators Credential) from the National Child Care Association in 2006. She has been married to Mack Bishop for 39 years; has one son, Travis; and has chosen to remain a resident of the south side of Columbus.
---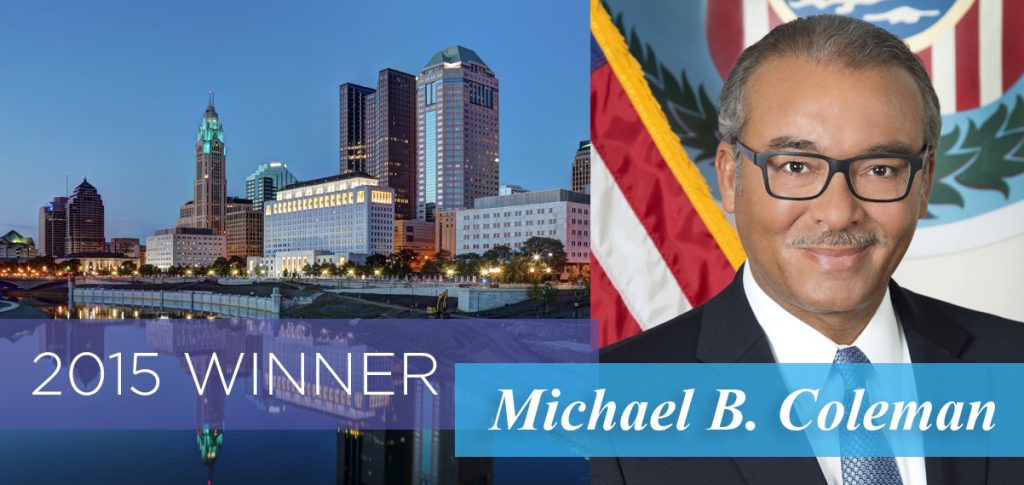 2015 Winner  |  Michael B. Coleman  |  Since taking office in 2000, Mayor Michael B. Coleman has built Columbus' reputation as one of the best cities in the nation by building stronger, safer neighborhoods, creating jobs, and maintaining a high quality of life. He is the longest-serving mayor in Columbus history and the longest-serving incumbent African-American mayor among major U.S. cities. Under the leadership of Mayor Coleman, the City of Columbus has become one of America's top cities for young people, families, and job creators. Mayor Coleman has made public safety his top priority, and as a result, Columbus is the safest major city in Ohio. In 2014, Mayor Coleman was honored among the Ebony Power 100, Ebony's list of the most influential and intriguing African Americans and as one of the nation's top 25 Doers, Dreamers & Drivers by Government Technology Magazine.
In 2014, Mayor Coleman launched Early Start Columbus, a $5 million investment in quality preschool education. Mayor Coleman continues to work with City Council, Columbus City Schools, the business community and other community partners to leverage new investments to expand access to early childhood education. Ensuring that children are ready to learn when they start kindergarten was among the recommendations of the Columbus Education Commission, a diverse panel assembled by Mayor Coleman in late 2012 to recommend bold improvements for Columbus schools.
Mayor Coleman created the Capital Kids Afterschool Program which has served nearly 2,500 kids since its inception.
The African American Male Initiative has served approximately 1,000 African American males to address leadership, responsibility and the issue of black males in Columbus including the Father to Father Initiative, designed to assist men in becoming the instinctive, responsible, and nurturing fathers they desire to be while educating the general public on the unique, important, and essential role that fathers play in the development of their children.