Action for Children receives CDA Gold Standard Training Certification
Action for Children is thrilled to announce that the Council for Professional Recognition has awarded us with the new Child Development Associate® (CDA) Gold Standard(SM) Training Certification. As one of only two organizations in Ohio to receive this distinction, earning the new CDA Gold Standard training certification is recognition of our work and demonstrates our commitment to advancing professional development for early childhood educators.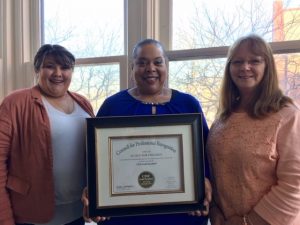 For more than 30 years, the Council for Professional Recognition has been the leader in promoting improved performance and recognition of professionals in the early childhood education of children ages zero to 5 years old. The Council recognizes and credentials professionals who work in various early care and education settings, including Head Start, pre-k, infant-toddler, family child care, and home visitor programs.
"We believe that our new CDA Gold Standard adds value and integrity to the early childhood profession by verifying connections between the Council's proven competencies and the quality of training resources available to CDA students," said Valora Washington, Chief Executive Officer, Council for Professional Recognition.
The CDA is seen as the paraprofessional credential that is the foundation of the Early Childhood profession. However, for early childhood educators who often do not earn high wages, achieving it can be cost-prohibitive. This year, with funding from the City of Columbus, an additional 65 educators will be able to participate in Action for Children's training. Designed to connect what teachers are learning to what they're doing with kids in the classroom, this intensive coaching model CDA preparation program includes rigorous pre-skill building followed by 12 weeks of classroom instruction and onsite observation of each candidate in their program setting. City-funded services began January 3, 2018 and will end June 30, 2018.
"There's no more impactful way to improve early learning than supporting the workforce, strengthening the quality of adult-child interactions. We greatly appreciate the City of Columbus for its leadership in helping Action for Children provide training for another 65 CDA candidates in 2018. There's no more powerful investment the City can make in its future and that these individuals can make in themselves, in their early learning programs, and in the children they teach. And, to be awarded one of the Council for Professional Recognition's first CDA Gold Standard endorsements only strengthens the value to CDA candidates of participating in our program," said Eric Karolak, CEO, Action for Children.
In addition to raising the bar for quality child care programs, having staff with a CDA credential is essential for programs to meet Step Up to Quality criteria. Step Up To Quality is a quality rating and improvement system for early learning and development programs in Ohio. It is currently voluntary, but will soon become mandatory for some child care programs.
By July 1, 2020, child care centers, family child care homes and preschools who have children enrolled and who are funded in whole or in part by public dollars must have received a quality rating.  Currently, less than one-third of programs are rated. With public and private sector partners, Action for Children is working to reach out and support all non-rated programs in meeting the quality standards required to receive a star rating and provide quality services to children utilizing public funding for child care.
"Every child born in Columbus should have an equal shot at the middle class. That starts with access to high-quality pre-K classrooms, which helps prepare children for success in kindergarten, in school, and in the workplace," said Columbus City Councilmember Elizabeth Brown. "I am grateful to Action for Children for providing CDA training to our teachers, which contributes to the overall goal of increasing the number of high-quality early childcare providers in our city."
If you are a child care teacher interested in obtaining a CDA, or a child care program interested in achieving a quality rating, please call 614-224-0222 to get started. Parents can also call 614-224-0222 or use our online search tool to learn if their child care program is quality rated or to get a personalized listing of child care options nearby.
To learn more about the CDA Gold Standard Training Certification, and the Council for Professional Recognition, click here.
About Action for Children
Now in its 45th year, Action for Children, transforms the lives of nearly 50,000 central Ohio children each year by supporting, empowering, and advocating for the adults who make the biggest impact on their lives—their parents, caregivers, and teachers. It's our mission and it's built upon our vision that all children, when supported by strong families and a vibrant community, have access to early learning experiences that prepare them for success in school and in life.