Action for Children's Central Ohio Child Care Provider Survey collects vital information from licensed child care providers about the local landscape of child care, and is the only continuing study of its kind in Ohio. Read the official reports based on findings from the surveys below.
Taking a Toll Report
November 2021
New findings from Action for Children's Taking a Toll report show that the difficulties of a pandemic and the ongoing challenges of operating in today's child care landscape are taking a toll on providers. Without additional support, nearly one in five child care providers in Central Ohio are not confident that they will still be open in three months. Staffing challenges loom as a major barrier to enrollment, with 50% of center-based providers are experiencing staff shortages, and even greater cause for concern in certain hotspots. Child care enrollment is depressed at 62% of total capacity (23% below the industry standard), and parents are struggling to keep up with higher tuition costs (37% of programs have had to raise tuition since July 1, 2021) and a shrinking number of affordable quality care options for their children.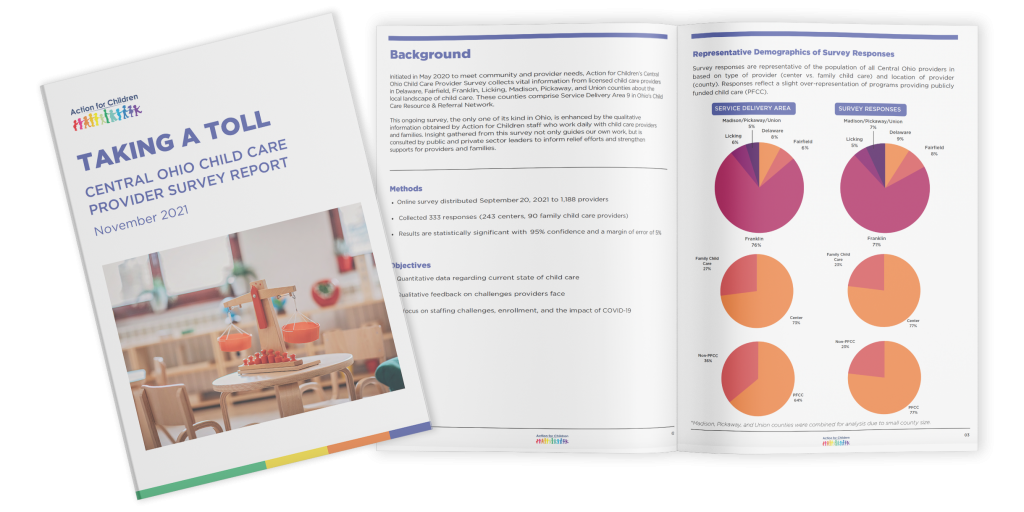 Spread the word by sharing the images below on social media!
To share hover over the images and click on the social media icon in the upper left corner. 
'