Featuring the Early Childhood Educator Awards
October 12, 2022 | Columbus Athenaeum | 6–8pm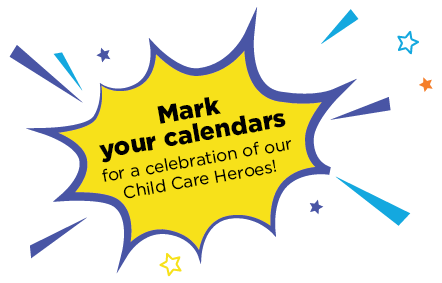 Join us in transforming young lives and honoring our child care educators for their service. Plus, learn about the Action for Children initiatives, programs and services during a fun, interactive cocktail hour! Please contact Action for Children Advancement Director Natalie Atkins at natkins@actionforchildren.org to discuss sponsorship opportunities.
Did you know that educators can attend the Action for Children Celebration for free? Simply visit the Eventbrite website to claim your ticket!
Not an educator? You can support an early childhood educator instead by donating a ticket!
PURCHASE TICKETS:
Interested in being an event sponsor? Download the Sponsorship Packet or contact Action for Children's Advancement Director Natalie Atkins at natkins@actionforchildren.org to learn more.

Early Childhood Educator Award Descriptions:

Whether in big moments or small, Action for Children believes that early learning professionals are everyday heroes. The Hero Award recognizes child care providers and staff members of all types who go above and beyond in their service of children and families, despite the many challenges they face. Hero Award recipients are champions and advocates for early learning, demonstrating unparalleled dedication and commitment to serving their communities.

Our Future Leader award recognizes early learning professionals who are new to the field (have joined within the last year), are excelling at their profession, and are committed to creating a bright, successful future for children. Future Leaders dream big about early learning, work to advance their own knowledge and skills, empower others, and inspire those around them to be their best.

Excellence in Teaching Award is presented to educators who have consistently demonstrated excellence in providing innovative, responsive, child-driven care and education.

Family child care providers are especially attuned to their communities, often caring for children over weekends and at night, groups of siblings together, and aligning to the needs of the families they serve. While teachers in every sense, family child care providers are also small business owners, program directors, cooks, maintenance staff, and more – all from spaces within their own homes. The Family Child Care of The Year Award honors these critical yet often unseen educators who support children, families, and the workforce every day.

Thank you to all of our sponsors:

Slide Nine
Sullivan Staffing Strategies
Karen Betancourt
Tamar Williamson
Columbus Early Learning Center