Featuring the Early Childhood Educator Awards
October 12, 2022 | Columbus Athenaeum
Thank you to everyone who joined us to celebrate transforming young lives and honor our child care educators for their service.  We hope you enjoyed learning about the Action for Children initiatives, programs and services during a fun, interactive cocktail hour!
Missed the event? It's not too late to support Early Childhood Educators!
Each award winner received $1,000 plus an additional $1,500 for their child care program!
Scroll down to learn more about each of the four winners!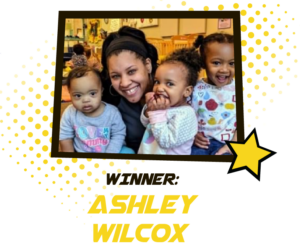 Whether in big moments or small, Action for Children believes that early learning professionals are everyday heroes. The Hero Award recognizes child care providers and staff members of all types who go above and beyond in their service of children and families, despite the many challenges they face. Hero Award recipients are champions and advocates for early learning, demonstrating unparalleled dedication and commitment to serving their communities.
WINNER: Ashley Wilcox, Chief Program Officer, Columbus Early Learning Centers 
"Ashley is an advocate in early learning through her commitment to on-going teaching and training our staff on what it means to be a professional within the field of early learning.  Her commitment to the professional development of our staff is a prime example of how she demonstrates why she is a champion for the field."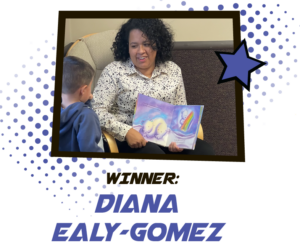 Our Future Leader award recognizes early learning professionals who are new to the field (have joined within the last year), are excelling at their profession, and are committed to creating a bright, successful future for children. Future Leaders dream big about early learning, work to advance their own knowledge and skills, empower others, and inspire those around them to be their best.
WINNER: Diana Ealy-Gomez, Lead Pre-K Teacher, Grow Together Learning Center 
"Diana is incredibly involved in our daycare. She is constantly continuing her education, taking time outside of hours to engage parents in broader activities, and represents everything we'd want to see in a teacher."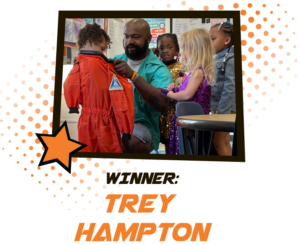 Excellence in Teaching Award is presented to educators who have consistently demonstrated excellence in providing innovative, responsive, child-driven care and education.
WINNER: Trey Hampton, Pre-K Teacher, Michelle's Academy 
"Trey is one of the children, he has the perfect balance of being a teacher, friend, mentor, and leader in the classroom. In every classroom he goes into, he adapts quickly and all of the children, families, and staff adore him."
Family child care providers are especially attuned to their communities, often caring for children over weekends and at night, groups of siblings together, and aligning to the needs of the families they serve. While teachers in every sense, family child care providers are also small business owners, program directors, cooks, maintenance staff, and more – all from spaces within their own homes. The Family Child Care of The Year Award honors these critical yet often unseen educators who support children, families, and the workforce every day.
WINNER: Davina Whiteside, Owner & Program Director, Davina's Kids 
"Ms. Davina consistently shows support to children and family because of the love she showers on each child and family. My family never had to worry about our how our children were being treated. We knew Ms. Davina was taking good of them because she loves what she does, which was evident in her work with the children on a daily basis."
Thank you to all of our sponsors:

Slide Nine
Sullivan Staffing Strategies
Karen Betancourt
Tamar Williamson
Columbus Early Learning Center